This Month's Free Audiobook from Faithlife Audio
Plus, get three other audiobooks valued at $79.80 for just $17.97!
Get them all
The Heart of Christ in Heaven Towards Sinners on Earth (audio)
The Son of God sitting at the right hand of the Father in the throne room of Heaven—a perfect, eternal, and sinless being—is a daunting and intimidating image. Thomas Goodwin seeks not to diminish that truth, but to enhance it by ensuring the church that Jesus Christ is also still perfectly loving and astoundingly forgiving.
Your price: $0.00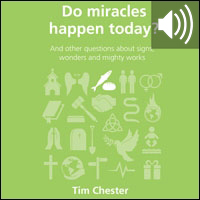 Do Miracles Happen Today? (audio)
An engaging and accessible guide to the Bible's teaching on miracles and whether they happen today. Lots of extraordinary stuff happens in the Bible. People walk on water. People touch handkerchiefs and are healed. People disappear into the sky. Did these really happen? What was their purpose? And do miracles happen today?
Your price: $4.49
Thriving in Grace: Twelve Ways the Puritans Fuel Spiritual Growth (audio)
Using the Puritan writings judiciously, Joel R. Beeke and Brian G. Hedges provide twelve fascinating chapters on how the Puritans help us in a variety of ways, such as shaping our lives by the Scriptures, convicting our consciences of the subtlety and sinfulness of sin, opening for us the beauty and loveliness of Christ, and much more.
Your price: $5.99
The Religious Affections (audio)
Jonathan Edwards, one of the most influential religious leaders and known for his work during the First Great Awakening, wrote this piece to discover and illuminate what makes a Christian truly a follower of Christ. There are many who claim to be saved but how can it be evident?
Your price: $7.49
Don't Miss Out!
Get these 4 audiobooks for just $17.97 today.
Get them all